WE UNDERSTAND THE TYPE OF CREATIVE SMALL BUSINESSES REALLY NEED
Our office is located in the shared space in Horizon West in Windermere, FL called ScribbleSpace. It's the HUB for Entrepreneurs in Horizon West, so we connect daily with local small business owners. Inspired by their deep rooted passion for their businesses sucess, we are compelled to help them with their advertising efforts as 99% of them are passionate about their product/service, but don't have any desire to spend their time implementing their marketing tactics.

As Scribblefish Media we've served the largest and smallest of businesses. Recognizing the huge gap in needs, budgets and goals between these two worlds – we set out to thoroughly analyze, break down and reconfigure the steps, methods and deliverables of typical ad agency. The results of our effort has resulted in a unique approach to how we provide our services to small business clients.

With our Memberships and a la carte design and printing services, you and your business can now have an ad agency partner in your corner at a cost you are comfortable budgeting for. As a Scribblefish Media Member you can rest assured knowing we are consciously approaching your projects to be cost-effective, efficiently produced and at a quality level that will make your brand sparkle over the do-it-yourself offerings. Semi-custom is the key that uniquely sets you apart yet makes your bottom line happy at the same time.
OUR TEAM
Since the beginning, Scribblefish Media has been nimble and adaptive by maintaining and nurturing a highly flexible virtual team structure. Our team members have a long history of loyalty to Scribblefish Media and are hand-picked due to their talent and complementary skill sets. Time and again, they've proven the value of their "can-do" attitudes and commitment to collaboration. And many have worked for the local theme parks directly themselves, so the quality of the work we produce is always top-notch, as our clients should expect.

Bottom line is that you get quality and value due to our unique experience and firsthand understanding of what it takes to run your own small business.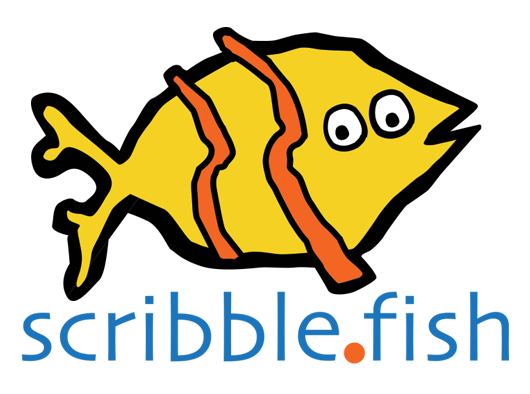 Get in touch with us
Dados de contato
Scribblefish Media
13790 Bridgewater Crossings Blvd #1080,
Windermere, FL 34786